Do you want to compare two of your Word documents easily and in no time?
Skip this article and visit the Draftable online platform to compare your files in just a few clicks.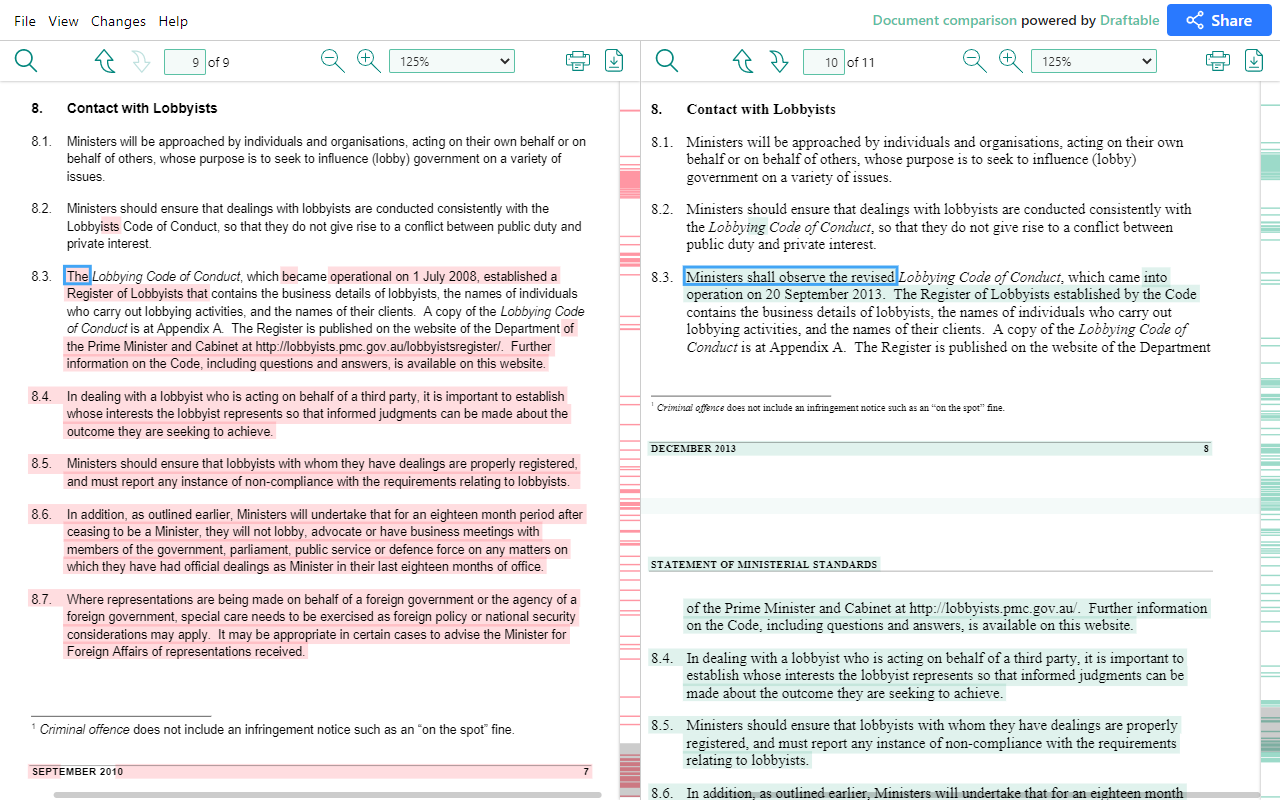 Are you looking for an easy and cheap way to compare two Word documents for differences?
Draftable is the cheapest, easiest, and most practical tool to compare your Word documents side by side. But how does it work? Is it as simple as it seems? Let's go into more details.
What Is Draftable?
Draftable is the most practical online comparison tool for your Word documents as well as all types of documents. It is a powerful, easy-to-understand, and incredibly cheap comparison tool that every team needs.
Compare Your Word Documents With Draftable Online
The easiest way to compare your Word documents is by using Draftable, as you'll find that there's no set up or registration needed. Let's go through all the steps one by one.
Go To Draftable And Access The Online Comparison Tool

To start with, go to Draftable.com and click on "Try Draftable Online." There's no registration or payment needed so you can proceed directly to making a comparison.

Drag and Drop Your Word Documents

Once you reach the comparison page at Draftable.com/compare, you'll get to the stage where you need to drag and drop your Word documents onto the Draftable platform. You're not just confined to Microsoft Word - you can also add PDFs and Powerpoint files.

Click Compare

Just like the rest of the process, it's simple. When you've uploaded both files, you'll be able to click on 'Compare' and wait a few seconds for Draftable to work its magic.

Compare All The Differences

This is where you'll be able to compare the two Word documents side by side, easily, and efficiently. On the left hand side - the old file - you'll see some highlighted text in red and, on the right hand side - the new file - you'll see some parts in green.

This simply means that the content in red wasn't deleted, and the text highlighted in green was added, compared to the older file.

Scrolling down, you'll be able to compare your Word files side by side, with the tool showing all changes in content.

The center bar shows you where all the changes are located in the document.
That's it! You're now ready to do a comparison. Visit Draftable.com/compare.
How To Use Draftable Desktop To Compare Your Word Documents Offline
The desktop version of Draftable might be more useful depending on the size of the documents you need to compare.
Using Desktop, you also don't need to worry about uploading your documents to the internet.
Download And Install Draftable Desktop
Downloading Draftable for desktop is free and easy. First of all, go to the Draftable Desktop page and start your free 5-day trial. You won't be required to pay anything nor to provide any payment method just yet.
However, once you've clicked on "Start Your 5-day Trial" you'll need to fill a short form to get the download link.
After filling it in, you'll immediately receive the link and product key via email. Follow the link to download Draftable Desktop and install it. The software will then ask you for the product key - you'll find it in the email you just received.
If you've already tested the online version and you're convinced that Draftable is the right comparison tool for you, go ahead and get the full desktop version now.
Drag And Drop Your Word Docs Into Draftable Desktop
If you've already used the online version of Draftable, this part will look very familiar to you. Just like the online version, you need to drag and drop your files into the software to start comparing your Word documents side by side.
After that, just click on "Compare Documents"
Compare Your Word Documents Side By Side On Draftable Desktop
Now that you uploaded your Word documents into Draftable Desktop, the comparison tool will do its thing - allowing you to see all the differences between both.
From here, it's as simple as it seems. You will see the text highlighted in red to indicate the parts of the Word document that were removed.
On the right file, the newest version, you will see the green parts that were added, compared to the older Word doc.
Differences Between Draftable Online And Draftable Desktop
While both versions of Draftable are similar and are able to compare your Word documents incredibly well, there are a few differences to note.
Firstly, the online version will allow you to upload your Word documents with a maximum size of 10 MB. On the other hand, Draftable Desktop can accept any document with no size limit.
Secondly, Draftable Desktop doesn't need an internet connection while, obviously, the online platform does.
Moreover, when using Draftable Desktop, your documents stay on your computer so you don't need to worry about common security and privacy issues.
Last but certainly not least, Draftable Online is completely free of charge to try and you will be able to get a shareable link for your remote team.
On the contrary, the Desktop version keeps your Word documents private, which means you won't get a shareable link.
Can Draftable Spot Every Change Made?
As a user, you want to see all changes made between your previous Word document and your new one. Draftable is able to spot all the most important changes that were made.
Bear in mind that the styling (bold, italic, and underlined) won't be highlighted for now. That being said, at Draftable, as of January 2021 we are cooking up an amazing update to both our online and desktop versions.
By March of this year it should be live - and Draftable will be able to spot every single difference made to your Word documents!
Our Final Take On Draftable
It is hard not to recommend such an awesome yet incredibly cheap comparison tool like Draftable. It'll get the job done quickly, it's super easy to understand, and, ultimately, it's better than any other tool on the market. Don't take our word for it - try it for yourself!