Hi! Looking to quickly compare two documents?
Skip this article and go straight to draftable.com/compare to get a comparison just like in the below image.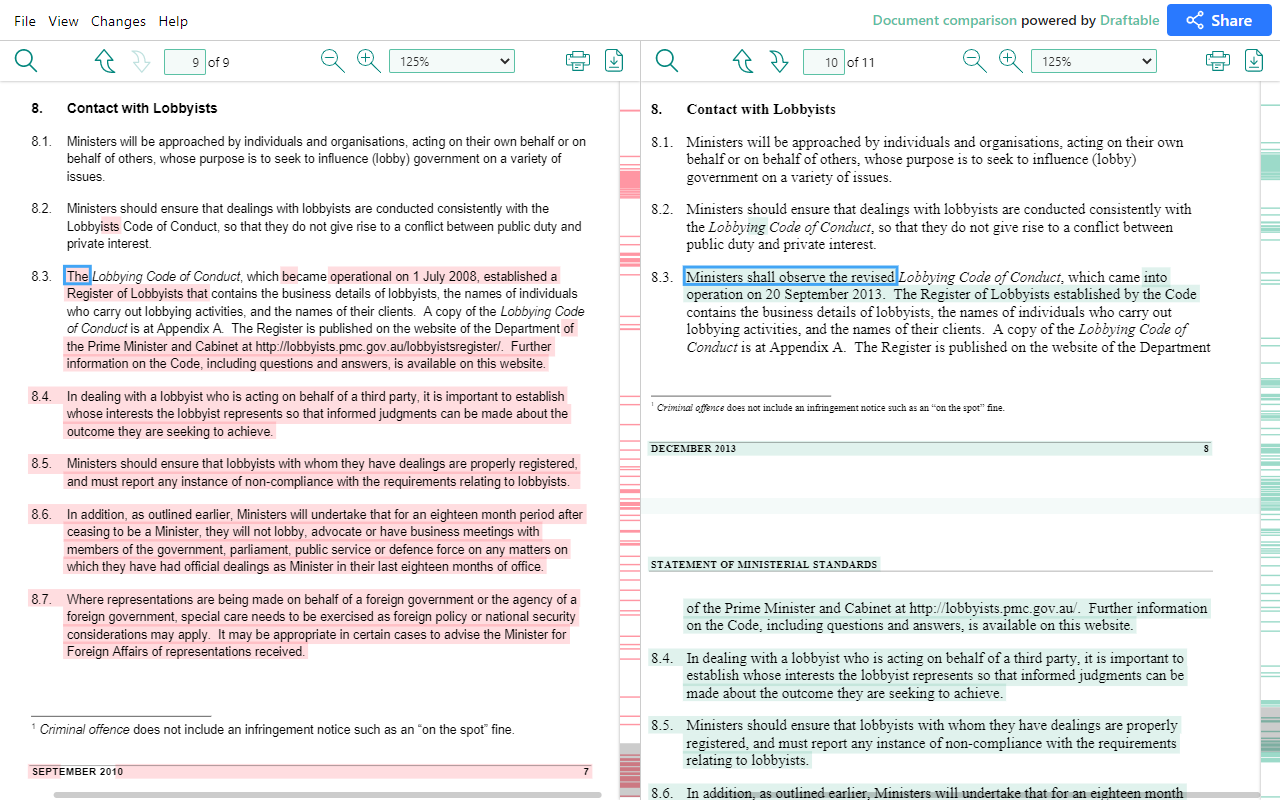 But if you're looking to find differences in versions of documents, do you know how? Did you know that tools exist to compare two PDFs side by side?
Today, we'll walk you through the best online platform to compare documents and PDFs side by side and make your life easier. Draftable is simply the best online tool to compare documents. It's user-friendly, ridiculously affordable, and fast.
You can run a comparison right here.
How To Compare Two PDF Files For Differences
Comparing two PDF files for differences has never been easier. You'll be able to see all differences by simply dragging and dropping your files into the Draftable tool.
How To Use Draftable's Online Platform to Compare Files
Draftable's online platform is the most intuitive and least time-consuming way of comparing two PDFs side by side. While this is certainly the version that most users will utilize, it is limited to a 10MB size file and 300-page length.
Without further ado, let's see how to use Draftable step by step.
Visit Draftable.com

When you visit Draftable's website, you'll only need to scroll down and to click on "Try Draftable Online" It's as simple as that. This will take you to the document comparison tool.

Drag And Drop Your Files

You're now at draftable.com/compare. This is the step where you'll upload your documents onto the platform. Simply drag and drop your older PDF version onto the left green box, and the new PDF file onto the right green box.

Click the 'Compare' Button

Once done uploading your files, you'll be able to click on "Compare". Click on it and let's proceed to the next stage.

Compare Your PDF Files Side By Side

You finally reach the last step. Now that you've uploaded both documents, you'll see the Draftable platform displaying both documents side by side. As you can see, there's some text highlighted.

The text in red color on the left document (previous document) shows the parts that aren't present on the newer documents or that were simply deleted.

On the other hand, the text in green color shows the parts that were added, comparing to the older file.
This is it, as simple as it gets. In 3 very simple steps and in no time, you're now able to compare two PDFs side by side.
Using the online version, you will be able to share the comparison by clicking on "Share" at the bottom right corner of your screen. From there, you will see a link to share as well as some embeddable HTML code, which you can add to your website.
You can easily download the newer PDF with all changes highlighted by clicking on "Download" at the top right corner of your screen.
Lastly, Draftable offers an intuitive FAQ section where you'll see all the most common questions answered. To visit the FAQ question, simply click on "Help" at the bottom right of your screen.
Think you're ready? Go to draftable.com/compare to start a comparison!
How To Use Draftable - Desktop Version
The desktop version of Draftable is just as easy as the online one, though you'll need to go through an extra step.
Download And Set Up Draftable For Desktop
First things first, visit Draftable's website and click on "Products" at the top of your screen and select Draftable Desktop. Once you reach the next page, click on "Start Your Free 5-Trial Today".
You will then need to fill a quick form to receive the download link and the product key by email. At this stage, you won't need to provide any payment method.
You will receive an email from Draftable confirming your free 5-day trial and your product key to start comparing your documents.
Click on the link in the email you've received and you're finally ready to download and install the desktop version of Draftable.
Install Draftable on your machine and input the product key received by email. Once this is done, you're ready to try out the software for 5 days.
Before you start to compare your documents, you'll need to read and accept the Terms and Conditions, and accept them, as per below.
Start Comparing Your Two PDFs Side By Side
Just like the online platform, you'll only need to upload your older PDF as well as the newer one and click on "Compare Documents" for the comparison tool to open up.
Draftable Desktop - The Design
Just as you can see in the online version, the red on the left-hand side will indicate the deleted content and the green color will indicate the added parts.
More To Note About Draftable
With the different versions available, Draftable is the perfect software to compare all your documents. In fact, these are the different versions available:
Draftable Online PDF Comparison - Most suitable for smaller documents
Draftable Desktop - Private document comparison tool
Draftable API integration - Add Draftable's power to your own software
Whether you are an entrepreneur and need to see the differences in legal contracts or a remote team that collaborate on documents, Draftable's platform is the one for you.
Of course, this isn't all there is to know about the Draftable document comparison program.
First of all, the images included in the PDFs aren't processed by Draftable. For these to be compared, you will need to use OCR tools to extract the text.
Secondly, Draftable isn't yet able to compare the different styles in a document. Bold, italic, and underlined text changes won't be shown. But this is coming very soon, so keep an eye out for a big announcement!
User-friendly, fast, and affordable, Draftable is simply the best document comparison tool you can find.