Want to skip the article and get straight to comparing docs? Go ahead and check out the Draftable online comparison tool to start right now. Draftable doesn't require any registration and is completely free of charge.
Otherwise, read up to go through all the steps to use the best online document comparison tool.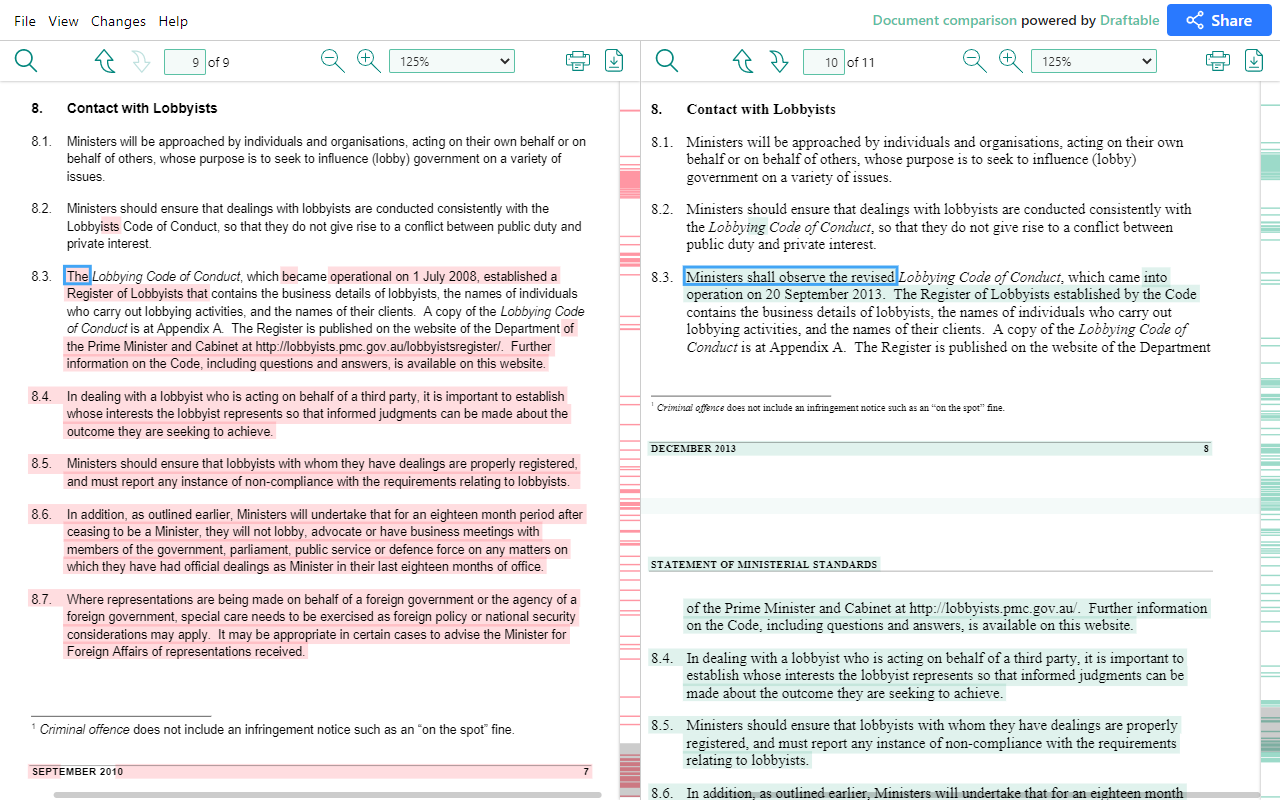 How Do I View a PDF File Side by Side With a Word Document?
If you got here, it's probably because you want to view your documents side by side, and we have the perfect solution for you.
To compare a PDF with a Word document side by side and see all the differences immediately, read until the end to go through all the steps.
Draftable is the best online file comparison tool that you'll find. First thing first, it's extremely easy to use, it's intuitive, and it's unbelievably affordable.
All you need to do is drag and drop your files - whether Word, PDF, or Powerpoint - and see all the differences highlighted.
In short, if you need to compare legal documents, employment contracts, or a company's annual report, you'll be able to do all this using Draftable.
How to Compare A PDF And A Word Document With Draftable Online
Draftable Online is the most simple, straightforward, and effortless way to compare a PDF and a Word document. You'll understand why by following the steps below.
Visit Draftable And Choose The Online Version

To start with, visit Draftable.com and follow the "Try Draftable Online" button.

From here, you'll get redirected to the online comparison tool where you'll need to upload your documents.

Drag And Drop Your Documents

You're now on the Draftable document comparison tool. Uploading your documents to Draftable Online is as easy as it gets. Simply drag and drop the older file on the left box and the newer file on the right box.

Alternatively, click on each box to select a file on your computer and upload each of the Word & PDF files.

Click on Compare

Now that both your files are uploaded, you're ready to compare your PDF and Word document to find differences.

The web page will open the comparison tool by itself and you'll be able to see the differences highlighted in red and green.

The text highlighted in red on the older document (left side) will display the parts that were deleted or that aren't in the newer version.

On the other hand, the content highlighted in green will indicate the new text that has been added to the document.

Analyse the Document

You've got the documents uploaded, you've clicked compare. What comes next? Compare the documents!

Comparing documents to find EVERY change has never been so essential. One small error can slip through and cause enormous economic damage to your organisation - and maybe even your career.

This is why you need a document comparison tool such as Draftable to get things done quickly and efficiently.

We use this tool ourselves - and once caught a lawyer trying to add a couple of sneaky changes to the 'final' version of a contract that he sent us as a PDF. This can be a lifesaver!

This was all you needed to compare some PDF and Word documents side by side using Draftable Online.

You're now ready to run a comparison! Draftable.com/compare
How To Compare A PDF With A Word Document With Draftable Desktop
Draftable online is a great comparison tool if you're looking to compare average files and share the differences with your team.
However, if you want a private tool that is able to compare documents of any size, without storing files in the cloud, you'll want to try out Draftable Desktop.
Draftable Desktop doesn't have any file size limit, it is intuitive, and setting it up won't take you longer than a minute. Let's see how to compare your files with Draftable Desktop.
Download And Set Up Draftable Desktop

First, visit Draftable.com, and hover over the products dropdown. Click on Draftable Desktop. Once you're there, you'll need to click on "Start Your 5-Day Trial" and input your details into a short form.

After that, you will receive an email containing the link to download your free version of Draftable Desktop as well as your product key to activate it.

Before going further in the process, download Draftable Desktop from the link in the email, accept the Terms and Conditions, enter your product key, and start uploading your files.

Upload Your Files To Draftable Desktop

Now that your free version of Draftable is installed, you're ready to compare a PDF and a Word document.

Just like the online version, uploading your files is easy and you'll only need to drag and drop them or to select them in your folder. Alternatively, you can just browse to find your documents.

Once uploaded, click on "Compare Documents" and start comparing your files side by side.

Compare Your PDF And Word Document Side By Side

Now that your files are uploaded, you're ready to start comparing your PDF and Word document.

Both Draftable Online and Desktop have the same layout which makes things extremely easy if you've used either of them.

Compare both sides and see the highlighted parts to see the differences. The red parts on the left document will be the ones that were deleted and the green text is the one that was added - simple as that!
Final Thoughts On Draftable
Other than being incredibly easy to use and quick to set up, there are other points to note about Draftable. Firstly, you can compare all files side by side from Word docs to PDFs to Powerpoint.
Also, your files will be safe at all times since the ones you upload on Draftable Desktop aren't uploaded to the cloud and don't leave your computer.
Furthermore, the price is just so low that you won't believe it. While Draftable Online is completely free, the Desktop version will only cost you a few dollars per month which is a first on the market.
Last but not least, you can get the Draftable API to be able to add the comparison tool to your own document management platform.