Release Status
Draftable Online: Live & Available Now!
Draftable Desktop: Live & Available Now!
Draftable API: Live & Available Now!
Draftable API Self-hosted: Live & Available in v2.1.6+!
How does Moves work?
Moves allows you to easily see what content has been moved
Moves are highlighted in blue, but this can easily be customized.

Moves allows you to jump instantly to where the content has moved to
By clicking on a move, not only does it show where it has moved to but also where it was moved from.
Get clarity from Moves even with edits
When people move content, they often make further edits. Draftable detects this.
You can now click on Moves that contain edits to also see the edits highlighted.
Whenever paragraphs are moved together, Moves keeps them grouped
In the change list, a single card will show a group of Moves. Each part then links back to the group.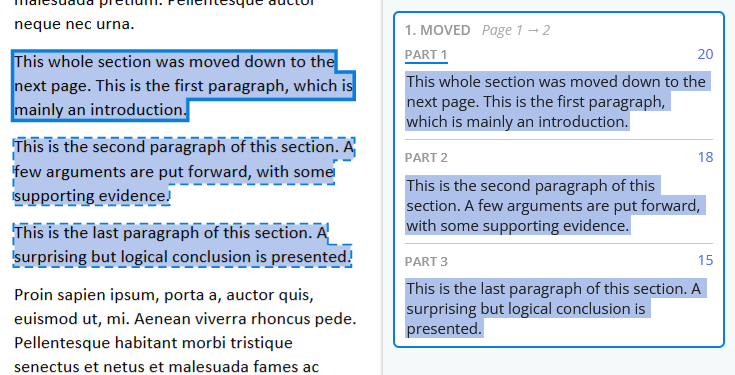 Moves appear in exports
In exports, Moves are marked in blue. The details of each move are also added as annotations.
When will Moves be released?
For Draftable Online & Draftable Desktop users
Moves is available now! Just make sure you're using the latest version, and you will see Moves.
For Draftable API customers
Moves is available now for all API users. If you don't see them, get in touch at .
For Draftable API Self-hosted customers
Moves is now available! Upgrade to the latest version (v2.1.6) and Moves will be automatically enabled.