Release Status
Draftable API: Live & available now!
Draftable Online: Live & available now!
Draftable Desktop: Live & available now!
What's new?
On top of a brand-new look, there are many new features in this upcoming release.
Change List
Instead of scrolling through to each individual change, see every change listed out. Clicking on a change in the list will jump you to where it is in the document.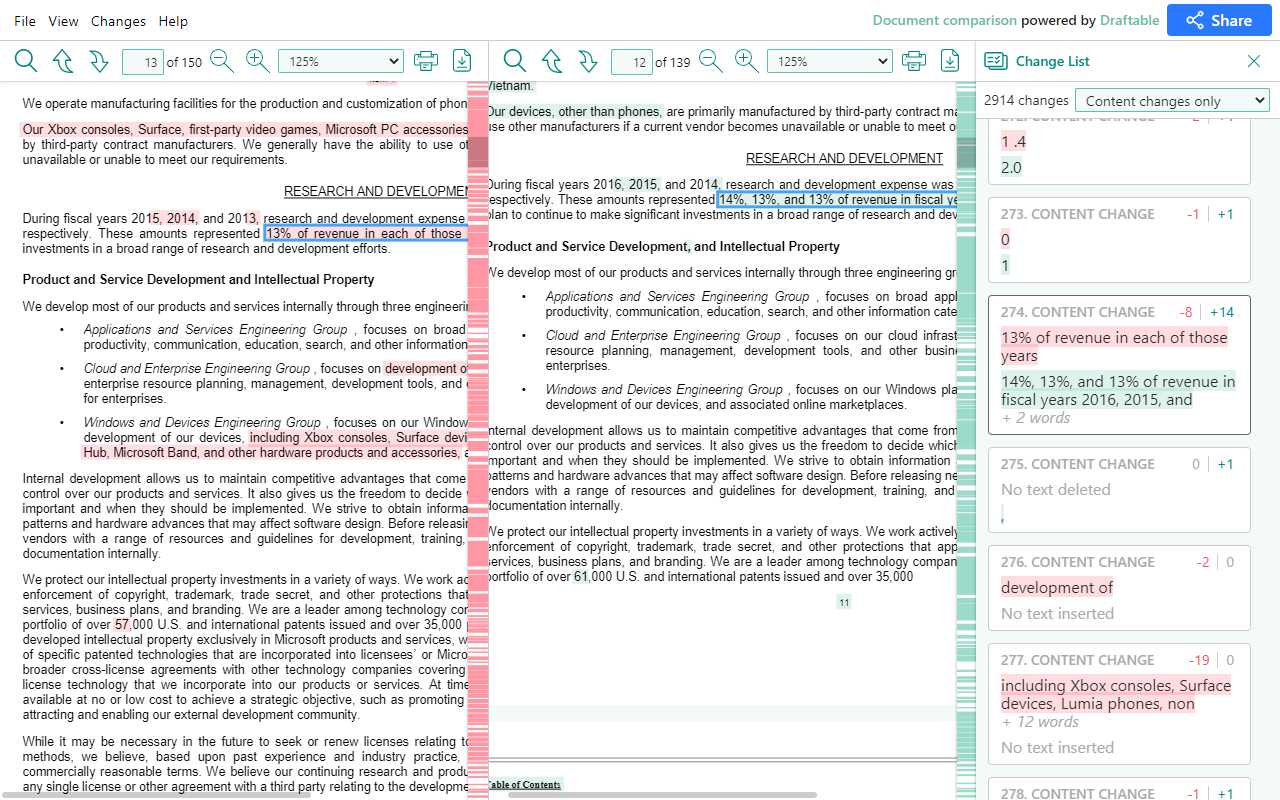 Text Style Changes
Draftable 2.0 catches aesthetic changes to text. Changes to font, font size, color, or emphasis (bold/italic) will be marked with an outline. For those who don't want to see change in styles, this can be turned off.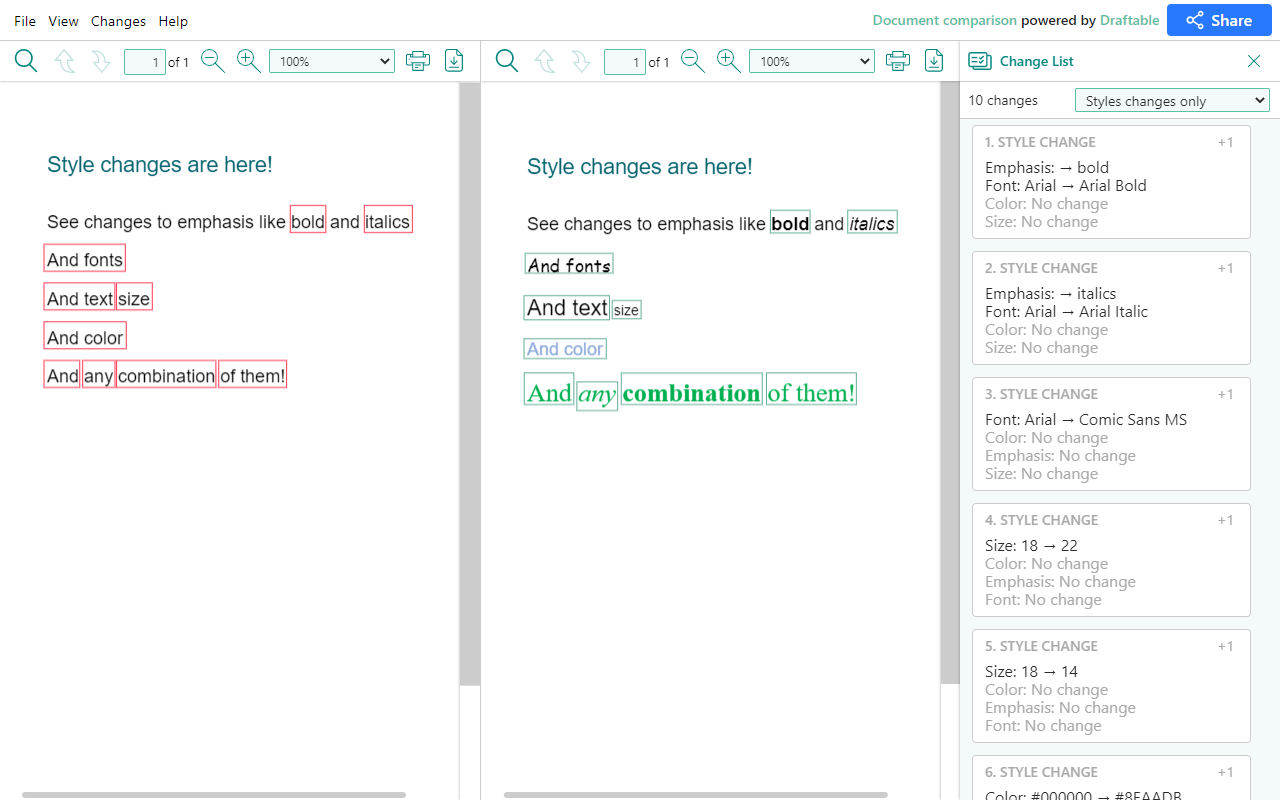 Single Page View
In Draftable 2.0, you can toggle from side-by-side comparisons to a single page view.
This is helpful if you a) don't need the side-by-side comparison or b) are working from a laptop and need a smaller view. Deletions will be marked with a red triangle caret and additions are underlined in green.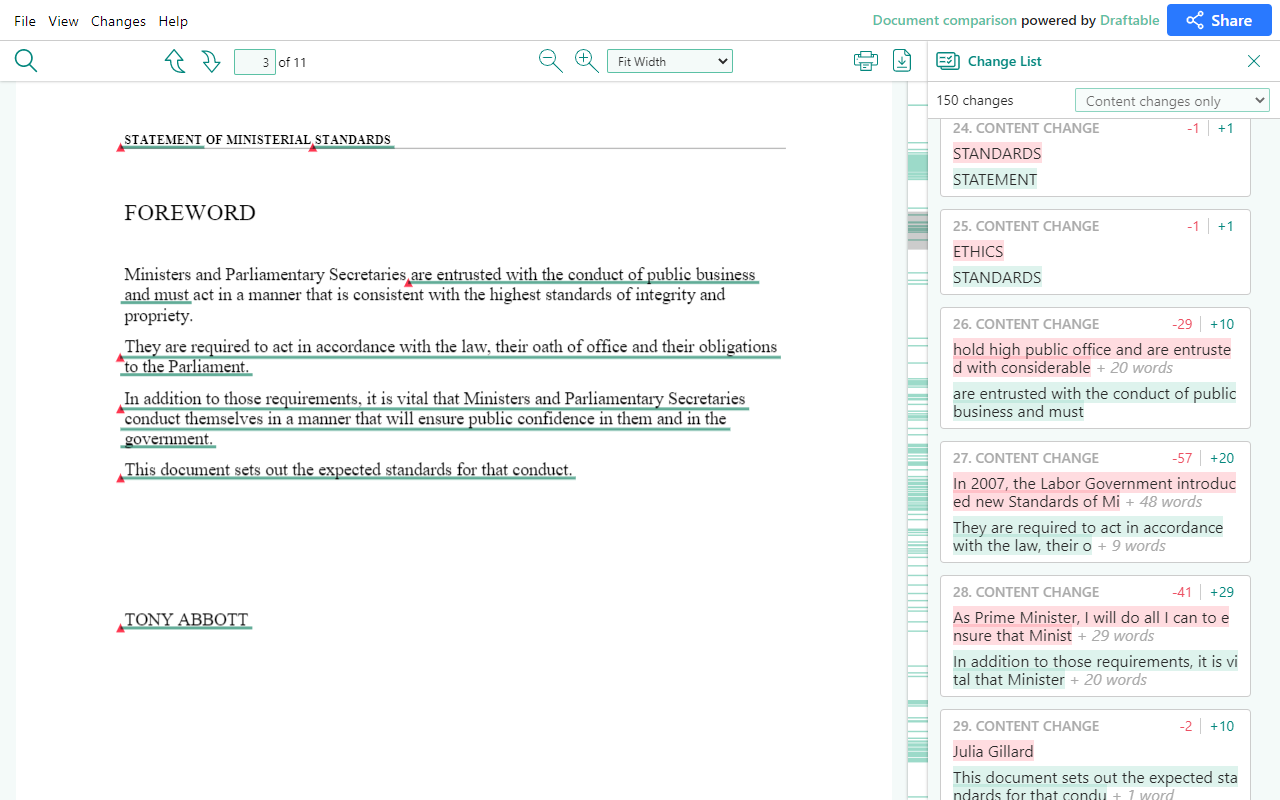 Export to PDF
Export a comparison to PDF to share with others, or to save for your own records. Exports are available for both the side-by-side view and the new single-page view.
Advanced Customization & Theming (API only)
In Draftable 2.0, you'll be able to adapt the design to more closely reflect what your users have come to expect.
Set the theme to match your brand, so Draftable's viewer matches your platform for a seamless end-user experience.
Customize the default feature settings and hide features your users don't need, to make Draftable perfectly suited to your users.
FAQ
Do I Need to Do Anything to Get the New Version?
API customers: Yes – You will need to contact our team to test & transition to the new version. For new customers, you will default to the latest version.
API Self-hosted customers: Yes – You will need to contact our team to gain access to an updated docker container and we'll update you when the new docker container is available.
Desktop users: No action required - You will receive an automatic update upon release. Alternatively, you can trigger a manual update via the tray icon by clicking Settings > Check for Updates.
Can I Test the New Version?
For Draftable API: Yes – Contact and we'll get you set up. You can test the new version in your test environment using a separate API account. Once everything is working in your test environment with this account, our team can help mirror the account settings over to your live API account.
For Draftable API Self-hosted: Yes - You can test either via the hosted API (as above) or via running a test instance of the new container. Contact to gain access.
For Draftable Desktop: There will not be a way to test this, as the update will be automatic.
Is This Change Mandatory?
Yes, we've made some fundamental changes to the comparison viewer, which will be incompatible with older versions. All customers will need to transition to the new version by November 30, 2021.
However, we recommend moving sooner than this in order to take advantage of the new functionality.
API Self-hosted customers can choose to stay on the older version after this date, but we will no longer be supporting this configuration.
Contact
if you have any questions about this.
We're using Draftable API. Will Our Devs Need to Do Anything?
Your developers will not need to change any code to use the latest version. When you are happy to switch, we will make the changes to your service and there will be a seamless change from the old viewer to the new viewer.
We recommend you test the new viewer with your user group before changing over. If needed, we can help you set up a test account or a URL change to test with your users.
What Else is Coming?
We have many more features planned (and already in progress!) that are now possible with the 2.0 upgrade. We are making it easier than ever to review documents and collaborate with others.
Stay tuned!